You may have come across the name of this popular OG weed, which has been touted as the wonder strain of the OGs. Today we will explore the pros and cons of the use of the Tahoe OG Kush weed strain and some hints on how to grow the strain with great success. All that and more on medical applications of the bud later on in this post, but first, how do we explain what Tahoe OG Kush is? Here's a quick highlight of key features.
Tahoe OG Kush, what is it?
The legendary OG family has yet another sibling known as the Tahoe OG Kush, one of the most popular weed strains around the globe made from the marriage of two OG Kush plants OG Kush and San Fernando Valley OG Kush.  The result was then added a little Afghani weed, and the plant that was thus forged was a monster packing about 25% THC.  A leading medical strain for its immediate and balanced high plus numerous CBD and terpenes nutritional benefits, the Tahoe OG Kush is a one of a kind strain for the long term among veterans and novice users alike.
Tahoe OG Kush appears as an Indica-dominant strain and therefore efficient for pain and aching control. It has many pleasant effects for recreation as well, seeing as it stems from two legends. It has strong sedative effects owing to its mainly Indica descent. Medical use is what has kept this strain alive and kicking for so long. It has been on the scene for quite a long while, but it is yet to outlive its usefulness since it has unmatched instant results.
Fragrance and appearance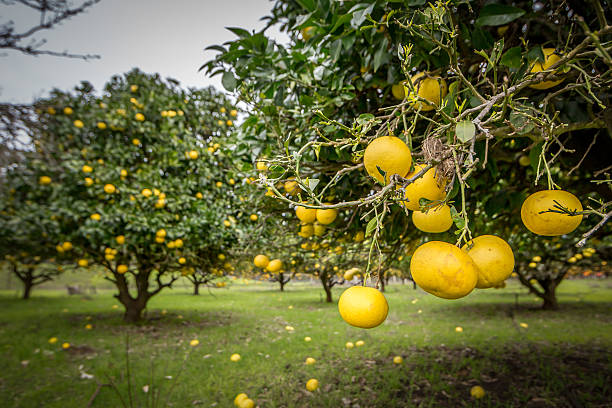 The Tahoe OG Kush weed aroma is that of spicy lemon (Interested in Lemon flavored strains? Check out our Lemon Skunk!) with highlights of pungent earthy notes. It has this unique earthen smell, like walking through a lemon groove after a torrential downpour. The scent will introduce the herb's taste and therefore prepare your tongue and lungs for an exhilarating experience.  From the moment you open the jar, the Tahoe OG Kush experience is a delight for those who have a taste for good flavored weed.
Walking through the garden planted with Tahoe OG Kush feels like smelling a bouquet of pine cones reconnecting you to nature and freedom. The smell may be slightly repulsive to non-users, but it can be the sweetest experience for veteran ganja heads. It will stick on clothes, walls, and drapery for longer than other strains owing to its smooth combustion forming a dense liberating cloud.
There are several flavors to this wonder herb, and sometimes you can pick out that beautiful lemony smell from a hundred meters. This strain has a strong woody and spicy notes highlighting pine-like exhale and a thrilling sensation for your taste buds. It is this enticing taste that is the beginning of the seduction process of the Tahoe OG Kush; it does taste like heaven but will soon gently lure users to a mellow state and, in the end, a deep, peaceful sleep.
Effects
The much enjoyable Tahoe OG Kush has become famous for being the best among the biggest and the worst cannabis group of strains, the OGs. It was built for medicinal use but had some exciting effects useful for recreational purposes. The super high induced by the OG Kush group is unmatched in instant relief and full-body relaxation.
This weed, once smoke, will hug you tightly so you can barely move and then, like a giant blanket, lure you to inactivity and full-body relaxation until you fall asleep and wander off to the land of sweet dreams. This is the ultimate Kush to go for when you need a comfortable night in.
Also commonly referred to as the wonder of the Kush family, the Tahoe OG Kush also packs some of the bliss molecules of the sativa plants. The effects of joy are evident when you smoke, but the dense cloud that gently rolls users to inactivity or sleep is much stronger.  It will elevate moods and increase the appetite of the user many times over. It makes the user feel hungry and insatiable is an excellent solution to diseases and conditions that destroy appetite leaving patients vulnerable.
 Risks and adverse side effects of using Tahoe OG Kush
The OG Kush group of strains is highly potent, and thus proper care should be taken when approaching it for first-time use. One of the unpleasant effects of smoking this weed is slight thirst and dehydration or extreme if you take way too much. It results in cottonmouth and dry eyes that may itch due to the dryness.
Another side effect of this bud that may happen to a few out of the many users is paranoia. This reaction is unique to some people that weed reacts to them in that way. Suppose you are about to smoke for the first time. The only way to know for sure is to try a few puffs.
The last adverse side effect of Tahoe OG Kush that we will discuss here today is dizziness. It is not uncommon to experience instability when you take too many hits all at once. It's not like alcohol dizziness, but when good weed delivers a mighty punch, it is easy to get dizzy. Taking your time and consuming the weed a little at a time will reduce the likelihood of experiencing this side effect. Just the same, do not operate heavy machinery when under the influence of drugs that tamper with the nervous system.
Tahoe OG Kush as Medical Marijuana
As earlier mentioned, the sedative Tahoe OG Kush was engineered for the medical marijuana field. Since then, it has remained relevant in the medical marijuana community, becoming a winning solution to chronic conditions, and patients hardly build a tolerance to it. While doctors are keen on providing all the remedies they can to ensure the patient is comfortable, artificial meds tend to become ineffective with prolonged use.
Tahoe OG Kush relaxes both the body and the mind giving the user a peaceful night's sleep regardless of the struggle in the real world.
Growing Tahoe OG Kush
If you wish to grow this bud, you will need a little more than average growing skills as it can prove quite tricky to grow. Despite being highly pest repellent and disease resistant, this crop will only do well with the perfect shifting between phases of growth with the right conditions and optimal fertilization. Common mildew and molds will not dare touch the fiery Tahoe OG Kush as it has strong genetics offering resistance to these.
The plant flowers typically take about 8 to 9 weeks tops and reach maturity for the picking, where you can expect to pick anywhere from 11 ounces per square meter and the same amount per plant for outdoor growth. Indoor growing is much trickier as the plant is in love with its daily dose of insolation. Artificial lighting can also supplement natural light supply and hasten maturity.
FINAL – Use and growing of Tahoe OG Kush
So there you have it, the key points to note about Tahoe OG Kush, a powerful tranquilizer slash sedative you can use to get through any rough patch. With a ganja doctor's prescription, you shouldn't face any trouble using this strain, even for more extended periods. Like any useful drug, overdosing can result in harmful effects and crazy episodes. Further, Tahoe OG Kush is a dominant strain that will challenge the first-time recreational user. Self-medication should always be your discretion, and therefore you need to proceed with caution.
If you choose to plant your buds, don't forget that the quality of the seeds you use will stone the final product's grade. On the plus side, you can quickly source quality seeds from certified seed companies and have them delivered to your location in readiness for this coming planting season. It makes a spectacular scene if you love to show your gardens.
We always strive to keep our posts as informative as possible within space constraints; we would love to hear about any other exciting Tahoe OG Kush facts that you would like to share with our audience. Do you or anyone you know to grow this bud? If so, do share your thoughts and comments down below.
Want to educate yourself on CBD? Read our article explaining it!